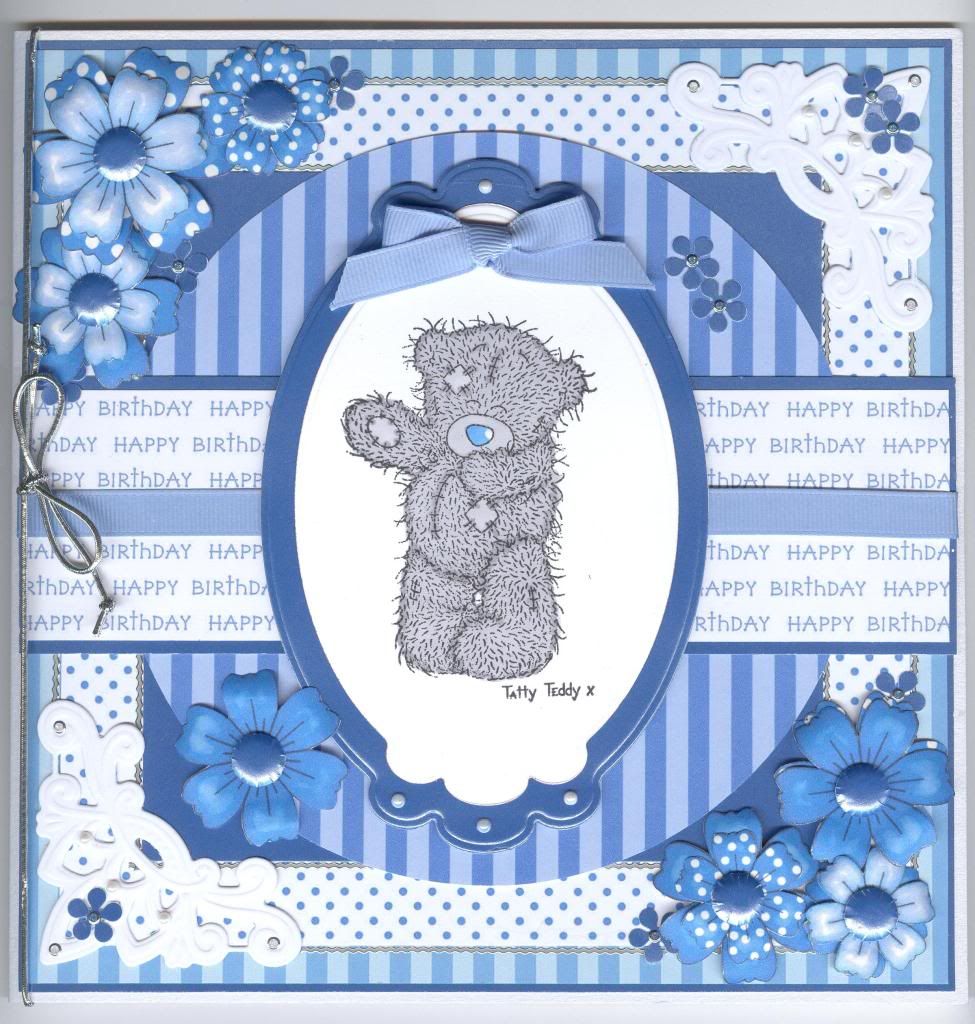 Having set this up over a week ago I think it's time to dip a toe in the water and leave an actual post. The first card I'm going to post a picture of is the one I've made for our daughter's birthday using the free Tatty Ted stamp from the docrafts magazine as the main image. It has been coloured using Promarkers. I'm afraid I don't do less is more and my cards usually end up being more is more with a variety of papers and craft tools being used and embellishments of all sorts.
The base card is a white 21cm square card
Papers used
Striped papers and Polky Dotty flowers are downloads from Fred She Said
Dotty paper from Seraphina and Friends background papers CD
Happy Birthday paper from a Cuddly Buddly download, A Patchwork of Papers - Blue
Blue card from W Enterprises, Aberdeen
Tools used
Spellbinders Nestabilities - Labels 10 dies
X-cut small flower punch
Marianne Creatables Corner die #1
Embellishments used
Bling Bling pearls
Silver wavy border peel-offs
Fizzy Moon blue ribbon
Silver and crystal peel-off dots
Silver elastic cord
Top tip for this card would have to be the home made candy dots. I made these with scraps of blue card punched with a half inch circle punch. I placed the circles front side down onto a soft mat and used my Glitter Girl's embossing tool to make circular movements over the back working from the inside to the outside. Applying presssure to the circle should shape it into a candy dot.
Thanks for reading this rambling and hopefully I'll get around to more regular postings in the future.
Liz x